26 Oct 2023
Zebra Producciones presents the series Memento Mori in Madrid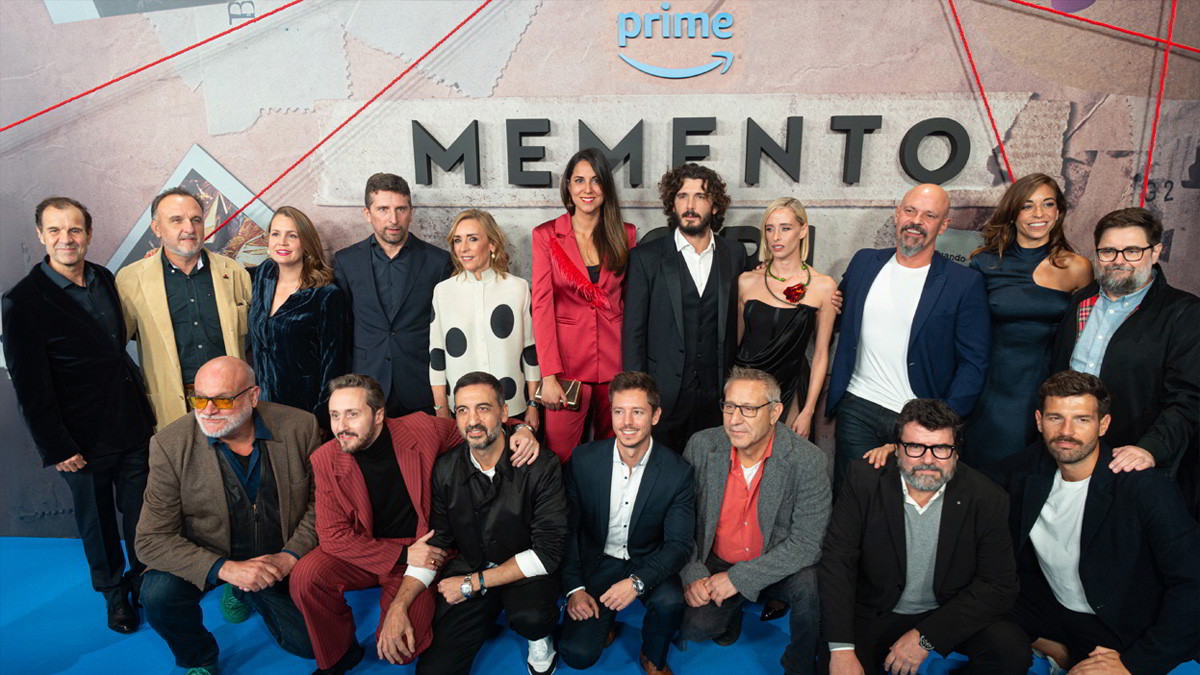 From left to right. Front row: Juanma Lara, Javier Varela, Marco A. Castillo, Luis Gómez, Luis Arranz, Fernando Soto, Francisco Ortiz. Second row: Jose Velasco, Juan Manuel Guimerans, Sara Fernández-Velasco, Ricardo Cabornero, Koro Castellano, Doña Blanca Jiménez Cuadrillero, Yon González, Olivia Baglivi, César Pérez Gellida, Carlota Baró and Fran Parra.
Zebra Producciones celebrated yesterday together with Prime Video the premiere of 'Memento Mori' in Madrid, on the occasion of the exclusive premiere of the awaited crime thriller tomorrow Friday 27th October on Prime Video.
The event was attended by its protagonists, Yon González, Olivia Baglivi and Francisco Ortiz, among others, as well as the participation of Doña Blanca Jiménez Cuadrillero, General Delegate Councillor for Tourism, Events and City Brand of Valladolid, and Juan Manuel Guimeráns, Manager of the Sociedad Mixta para la Promoción del Turismo de Valladolid; Koro Castellano, Director of Prime Video in Spain and Portugal, and Ricardo Cabornero, Content Director of Prime Video in Spain and Portugal; and Jose Velasco and Sara Fernández-Velasco, President and CEO of Zebra Producciones (iZen Group) respectively. Ana Morgade was in charge of presenting the event and also present on the blue carpet were Milena Smit, Anne Igartiburu, Jota Abril, Borja Maestre and Alberto Amarilla, and content creators such as Berry Berryuca, Sensafilm and Merigo Psicología, among many others, to accompany their protagonists at the premiere.
About 'Memento Mori'
The series begins when the body of a young woman with her eyelids amputated appears in Valladolid. Inspector Sancho (Francisco Ortiz) foresees a chain of murders, and with the support of "Carapocha" (Juan Echanove), one of the greatest experts on serial killers, he follows the trail of corpses that Augusto (Yon González), a sociopath with refined tastes, leaves around the city. They soon discover that they are dealing with a killer who commits crimes with a soundtrack and signs the bodies of his victims with poems. What Sancho doesn't know is that the chase will turn into a very personal duel.
The series stars Yon González (Las chicas del cable, El Internado), Francisco Ortiz (García!, El Cid), Juan Echanove (Desaparecidos, Alatriste), Olivia Baglivi (Libélulas, Brigada Costa del Sol), and Manuela Vellés (Historias para no dormir, Citas Barcelona). The cast is completed by Juan Fernández (El Cid, Lucía y el sexo), Fernando Soto (La casa de papel, Celda 211), Carlota Baró (Las chicas del cable, Amar es para siempre), Javier Varela (El secreto de puente viejo, As bestas), Juanma Lara (La mancha negra, El Príncipe), Alicia Sánchez (Sky Rojo, Hospital central), Unax Hayden (20. 000 especies de abejas, Irati), Rodrigo Poisón (Parot, Orígenes secretos), Ana Villa (Infiesto, El Cid), and Pau Romero (Presos en el extranjero).
The six 45-minute episodes are produced by Zebra Producciones, with Jose Velasco, Sara Fernández-Velasco, Luis Arranz, Marco A. Castillo and Ibón Celaya in executive production, Marco A. Castillo and Fran Parra in direction, script by Germán Aparicio, Abraham Sastre and Luis Arranz, and original soundtrack by Alfonso González Aguilar. Memento Mori has been supported by the Valladolid City Council through the Sociedad Mixta de Turismo and the Valladolid Film Commission. The distribution company Newen Connect belonging to Newen Studios (TF1) is responsible for the international distribution of the series.